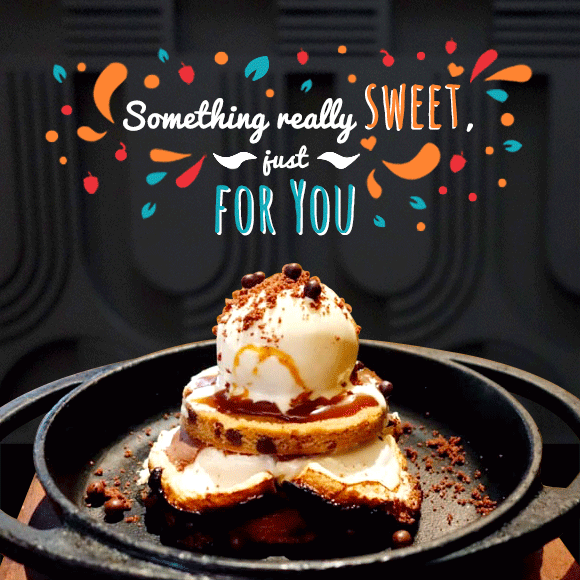 Quivo Dessert Mania
We know you love desserts! Honestly, who doesn't? Make your way to QUIVO and indulge in an array of new treats that are sure to excite the palate.
Quarter Pounder Cookie
Chocolate lovers, choose from the Quivo Tower, a chocolate sponge cake with gooey chocolate sauce and topped with vanilla ice cream tower, or the Caramel Snickers Cake, which is chocolate sponge and caramel chocolate buttercream sprinkled with Snickers dust and caramelised nuts. There's also the Oreo Sleeping Beauty, where Oreo-infused buttercream and Oreo chunks sandwich tiers of fluffy chocolate cake, and the Quarter Pounder Cookie, a weight watcher's arch nemesis made up of chocolate chip cookies with handmade marshmallow, milk chocolate and a crown of vanilla ice cream.
Mirror Mirror On My Plate
If you're one for fruity flavours in your dessert, you won't go wrong with the Apple Cinnamon Cake or the Lemon Blueberry Cake. Hankering for something fancier? The Mirror Mirror on my Plate won't disappoint — glazed almond sponge is filled with whipped vanilla ganache and raspberry jelly.
OTT Freakshake
A classic with a twist is the Almond Granola Cheesecake, and if you're feeling indulgent, you'd want to try the OTT Freakshake. This frothy vanilla ice cream concoction is topped with Kit Kat, Oreos, pretzels and fresh whipped cream.
Love what you see? Pick your favourite and share with us on Instagram with the hashtags #quivo #quivomoments.
Make a reservation now at http://quivo.my/#reservation or call +603 2141 7711.