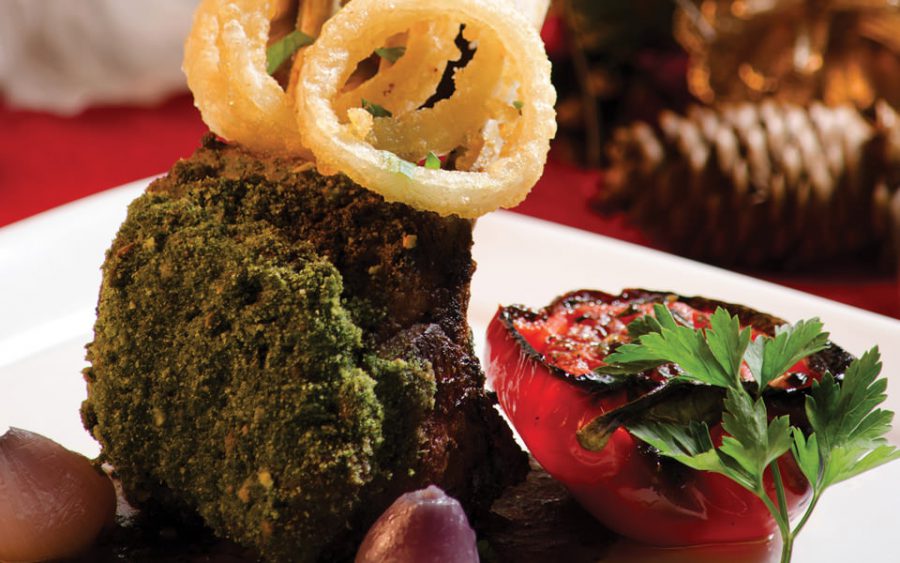 Quivo's Holiday Wonderland
Exceptional Occasion Calls for Exceptional Dining.
Catapult into the holiday season with Quivo's Holiday Wonderland 5 course dinner menu, and a sumptuous flowing lunch menu.
Revolving around an Alice in Wonderland theme, Quivo's Holiday Wonderland Menu is centred on a chic, festive fairy tale world. Christmas Eve and New Year's Eve will focus on a 5-course set menu, while lunch on Christmas Day and New Year's Day will feature a sit-down buffet menu.
Rich, scrumptious, and full of flavour, Quivo's Holiday Wonderland Set Menu will feature dishes such as the Wonder Burger, which is proof of its name by the stacking of seared foie gras on top of a wagyu patty. Desserts are kept traditional and nostalgic, reminiscing the holiday spirit in the form of a decadent festive dessert board, playfully named as the Cheshire Treat.
As for lunch, a specially designed selection of the best-selling dishes at Quivo will be featured in the Holiday Wonderland flowing lunch menu. The much-loved Mini Wagyu Burger, served on a chef-crafted brioche bun makes an appearance in the menu, along with quintessentially traditional comfort food such as Pesto E Olio, and Margherita pizza. The flowing lunch menu is a collective of Quivo's favourites, designed to flow continuously from the kitchen straight to your table. All you have to do is sit-back, choose your desired main course, and let the food flow.
New Year, New Life, and Quivo will be celebrating it with a Bang! DJ Hajar will be joining us for the much-awaited countdown to 2015! We all know a celebration is incomplete without cocktails. To mark the holiday season, we are lighting up a festive bar on the Quivo patio starting from Christmas Eve on the 24th of December, right up until the 1st of January 2015. Announce your 2015 goals at Quivo over our limited-time cocktails such as The Bandersnatch, and Jabberwocky. We won't tell you what delicious ingredients our mixologist has marinated inside these drinks, so you'll just have to come and find out for yourself.
Quivo's Holiday Wonderland Menu will be available only on the 24th of December and the 31st of December for dinner(6pm to 10.30pm), and on the 25th of December and 1st of January for lunch(11.30am to 3pm). The celebration continues right up to 2am with drink and cocktails, so no rush.
For reservations, contact Quivo at +603 2141 7711