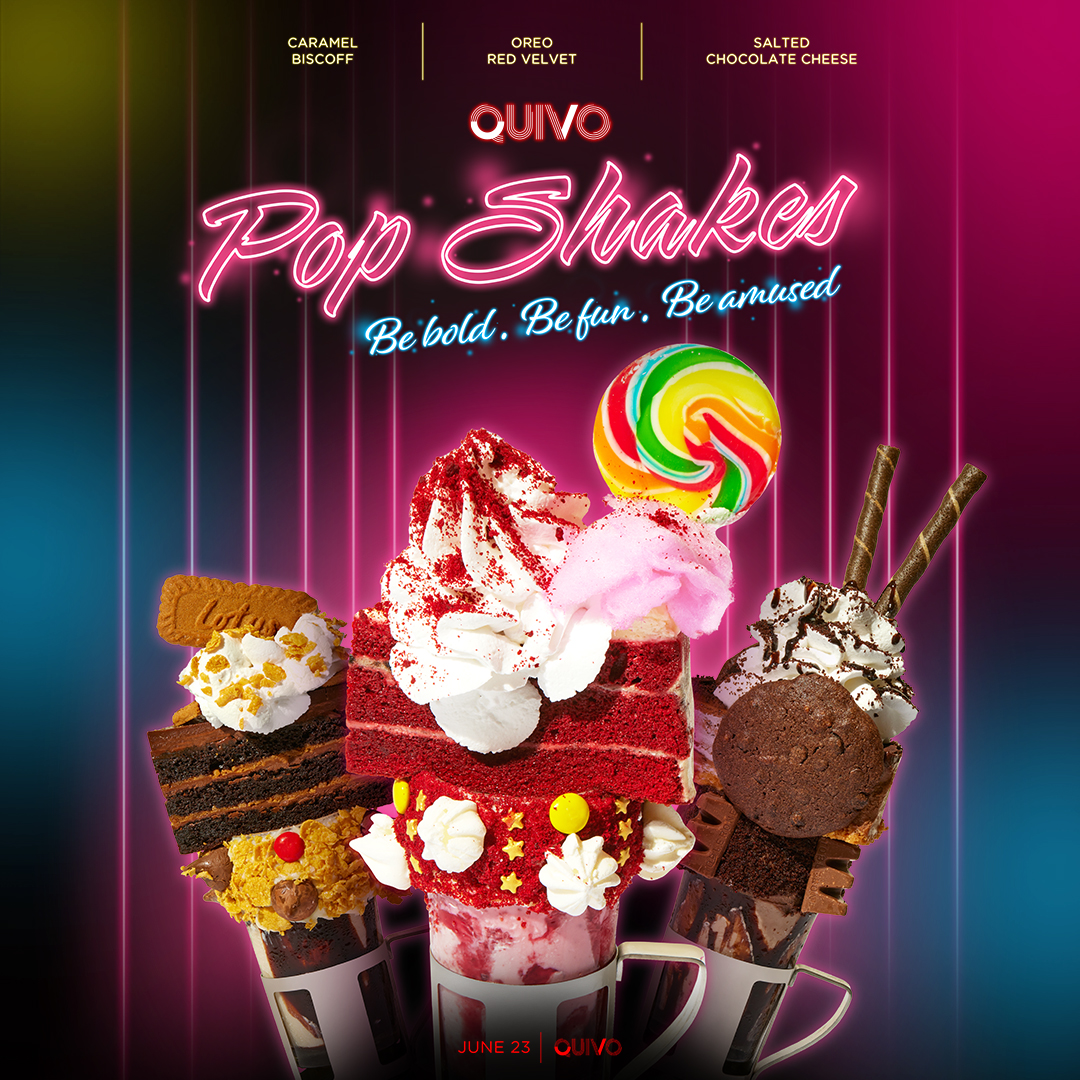 Introducing Quivo's Pop Shakes: A Symphony of Flavors and Fun!
Step into a world of pure indulgence as Quivo proudly unveils its latest addition to the menu – Quivo's Pop Shakes! Brace yourself for an explosion of taste, a burst of colors, and a dash of whimsy, all blended into one delightful milkshake experience. We've crafted three extraordinary flavors that will leave your taste buds dancing with joy.

First up, the Oreo Red Velvet Pop Shake – a masterpiece that combines the rich decadence of Oreo red velvet cake, the nostalgia of a lollipop, and the whimsical charm of cotton candy. This delightful fusion is a treat for your eyes and your palate, capturing the essence of the holiday season in every sip. You'll find yourself immersed in a magical wonderland as you savor this enchanting creation.
Next, we present the Caramel Biscoff Pop Shake, a dreamy concoction that takes your taste buds on a blissful journey. This velvety smooth milkshake features luscious Caramel Biscoff cake, a sprinkle of honey cornflakes for a delightful crunch, and the beloved Biscoff cookie. One sip, and you'll be transported to a world of pure indulgence, where every flavor harmonizes perfectly to create a symphony of taste.
And finally, for all the chocoholics out there, we bring you the Salted Chocolate Cheese Pop Shake – a divine blend that marries the rich goodness of salted chocolate cheesecake, the blissful temptation of a giant chocolate chip cookie, and the irresistible allure of double fudge chocolate milkshake adorned with mini chocolate cubes. This Pop Shake is a testament to our commitment to elevating the art of milkshakes to new heights.
Visit Quivo today and treat yourself to the magic of Quivo's Pop Shakes. Step into a world of wonder, where each sip is an invitation to savor the joy of life through the art of milkshakes. Our team can't wait to welcome you and make your milkshake dreams come true!